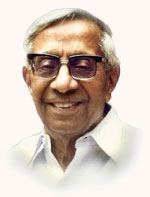 Sri S Viswanathan was the Founder of the Company. He was responsible for the growth of the Company and bringing it to its present stature. Affectionately referred to as SV, by his friends and associates , he was a lawyer-turned freedom fighter-turned industrialist of a unique genre. He was a close associate of Sri Jaya Prakash Narayan.
He teamed up with Sri R Venkataraman, former President of India, to practise Law at Chennai. He joined in 1957, the House of Seshasayees, a Managing Agency firm of repute in that era. With the untimely death of Sri V Seshasayee , SV took on the mantle, and his entrepreneurial drive and vision helped him establish, between 1958 and 1961, three Industrial enterprises, viz. Seshasayee Industries Limited, Simco Meters Ltd, and Seshasayee Paper and Boards Ltd. He also promoted, later, Neyveli Ceramics Ltd,High Energy Batteries(India) Ltd, Ponni Sugars & Chemicals Ltd, SPB Projects & Consultancy Ltd, SPB-Esvin Advanced Technologies Ltd, etc.
The 'Magnum Opus' of SV was the creation of Tamil Nadu Newsprint & Papers Ltd. He took total charge and responsibility from concept to commissioning of this project. This was the first ever Mill to produce, successfully , newsprint out of sugarcane bagasse and continues to be one of the top profit performers of the State Government.
He laid great emphasis on the use of Bagasse as raw material for the Paper Industry to preserve forest cover and protect environment. His persistent thrust in this area has led to more than 50% of paper production in the country now being made out of unconventional raw materials, such as Bagasse. He promoted Ponni Sugars which became the first sugar mill in the country, to use alternate fuel in its Boilers and release the Bagasse in entirety for Paper Making. He innovatively structured Irrigation projects with multiple objectives of using treated paper mill effluent for converting dry lands into wet lands, thus transforming the livelihood of local farming community and simultaneously meeting the raw material needs of both Sugar and Paper Industry.
Sri. SV was a Director on the Board of SPB from inception, representing the erstwhile Managing Agents. He took over as Managing Director of the Company in April 1970, with the abolition of the Managing Agency system. He became the Chairman and Managing Director in December 1986, on the stepping down of Sri S Narayanaswamy, as Chairman of the Company. He relinquished his office as Managing Director in April 1988 and continued as Non-Executive Chairman of the Company till his very end.
He was a strong believer in team work and professionalism. He was firmly of the view that the role of the Industry is not just to create wealth in a few hands, but must be extended to serve rural development, poverty alleviation, employee welfare and society upliftment.
He paid great attention to operational details and played crucial role in nurturing the Company to its profit-yielding status. He was the inspiration behind the Company launching the recently completed Expansion / Modernisation Scheme. He was a 'visionary' par excellence and 'Karmayogi', non-pareil.
He passed away on July 22, 2001, after a brief illness
In his passing away, our Company has lost its Guiding Star and the void is hard to fill.
Though he is no more, his lofty ideals will always be the guiding spirit in all our activities.